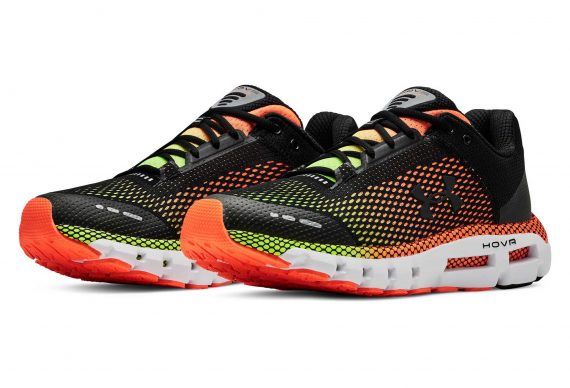 Under Armour Hovr Infinite
Under Armour Hovr Infinite
Imagine you forgot your smartphone at home before going on the road. Or maybe you simply don't like to run with your phone in your hands and feel its heaviness. Or it just happened that your phone battery went empty during during the run suddenly…
Sounds pretty uneasy for an enthusiast who always likes measuring every step during the run, don't you think? Well that's where Under Armour hovr Infinite perfectly comes in hand. It is a smart and effective shoe for exactly those aforementioned situations. Don't you believe that? Let's take a look on why the Under Armour became with this model "a recommended shoe of 2019" and what the downsides on the other hand are.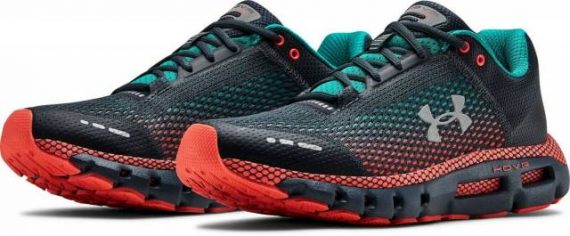 My experience
In general, I am very old fashioned. I hate all these smart wearables and thus, before buying Under armour hover infinite, I have barely tested other connectable devices for runners, except for Endomondo app. That means I am disadvantaged when comparing these shoes to something "smart" that the market offers. On the other hand, I can say that I am a real middle to long distance runner so I can fairly evaluate its other attributes.
Conditions of testing
I tested the shoe during three runs for five, eight and nine miles before writing this review. During the second run, I took them for rainy weather, otherwise just normal sunny weather. Around 20 degrees outside. No hills, just plain surface around the city.
First impression, midsole
Having Under armour Hovr Infinite first taken on my feet was a pretty good feeling. The shoe is in the toebox a bit narrower than expected, so if you have wider, flat feet, definitely get half a size up. Otherwise in men version the shoe feels really good, as any upper class running shoe. Hovr, the midsole of Under Armour Infinite, is their latest version from 2019 and maybe not comparable in quality to for instance Brooks Glycerin 12 or Ultra Boost from Adidas but definitely similar to model Adidas Duramo 9 or Nike Zoom Vomero 14 . It is cushy enough to let you comfortably run anything from short distances to 10 miles. The midsole is bouncing back and makes you run smoothly mile after mile.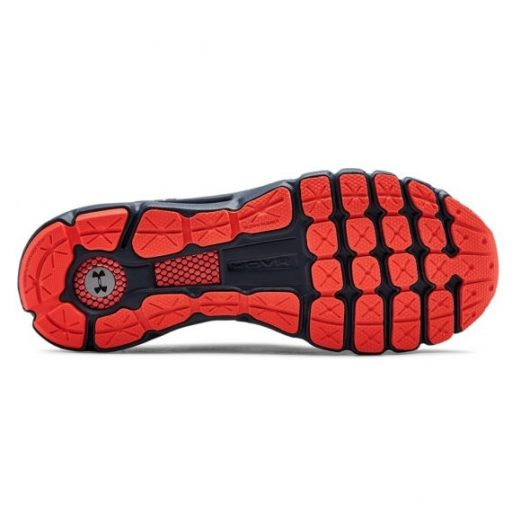 "Heavy as hell"
Where I could sing odes for quality material, I had a real struggle with heaviness of this shoe. Under Armour Hovr Infinite is somewhat over 300 grams. In my opinion that is a bit too much for a running shoe for roads. Especially if you are used to running shoes from Nike that mostly even get below 250 grams (Nike Epic React Flyknit 2 is a great example of it). Maybe it really depends on what your previous model was. But the fact that the shoe is heavy and also a bit less flexible makes the running experience in the beginning a bit tougher tougher. Nevertheless, I got used to it soon and thus, I would say that the shoe is simply good for long distance running anyway. No doubt…
Visible and stylish at the same time
Everyone likes something else and everyone values shape and design of the shoe differently. For me, even though the colors and design mostly are not that important, in this case, Under Armour Hovr Infinite took me by heart. The shoe is very elegant by its total shape and looking sporty by its densely shining colors in many tones. Plus, as a bonus, it has reflective dots all around the upper. Thus, you will remain visible from any direction at night even if you didn´t want it :).
The smart boost is simply cool
You just put the Under Armour Hovr Infinite on, start the app Map My Run, wait for approximately one minute before it gets connected and you can start running. That's it. Synchronization is very fast. After the first run, it was then even shorter, around 15 seconds. That definitely impressed me and relieved me at the same time because I expected I would come across connectivity problems. None of that happened. As I said, I tested the shoes also during some rain, some heavier showers, and thank God, even during that time the shoes kept loading the data to my app.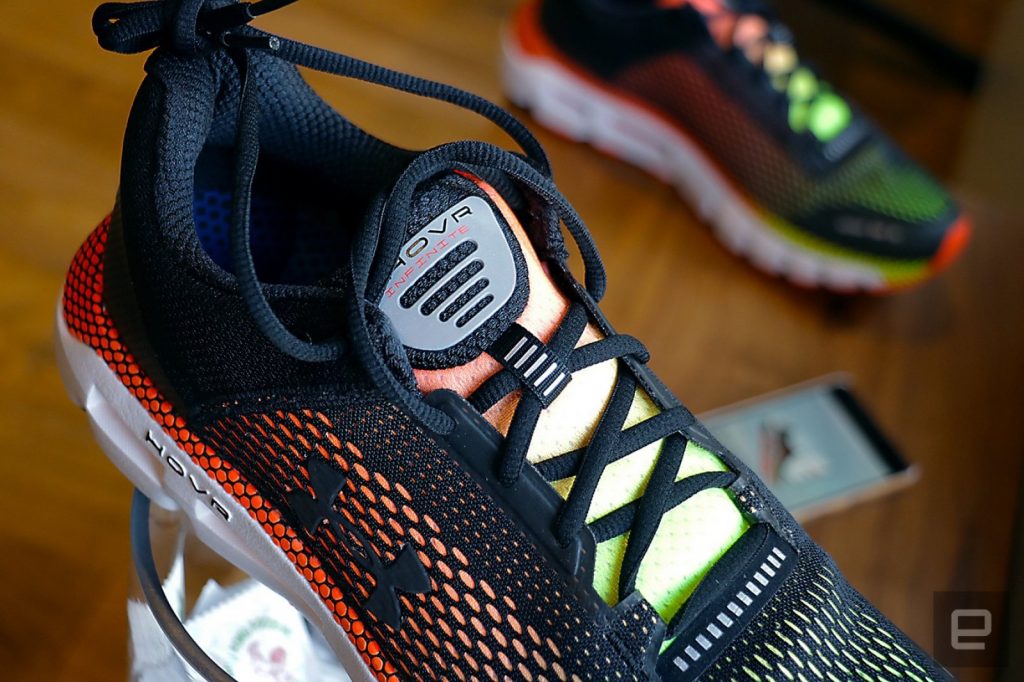 Now the best part. The chip in Under Armour is supposed to measure distance, duration, pace, length of steps and cadence. And that even when you are not connected and you leave the phone at home. You can just synchronize it back in time up to seven hours after your run. I must say, most of all impressed me the measurement of distance. I tried measuring it with the phone connected and then also offline. I ran exactly the same circle and the difference when using the shoes with app and then while being offline with the shoe sensor was less than 0.1 miles (150 meters) on 8 miles run. For me that is accurate enough. That means you can comfortably just run with the shoes and synchronize it with the phone at home later.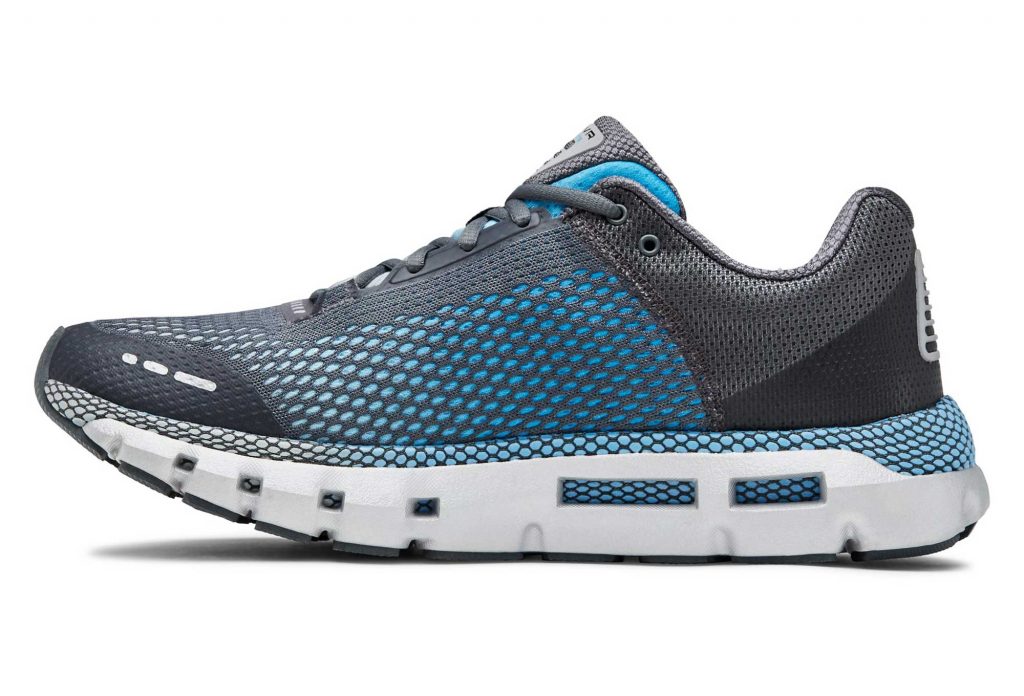 Great but…
What is nice is of course the stats that it provides about your length of steps and cadence. Unfortunately, you cannot see the results during the run, which is a real shame. Then you can only check it after you finish and thus to do real time adjustments of your run is basically impossible. Definitely there would be for Under Armour Hovr Infinite a place for improvement. What also may displease many people is the fact the shoe cannot connect to any other running app than the official Map My Run. The app is user friendly but I am used to use Endomondo and this is simply not possible. Hopefully the producer will change it in time.
Overall, it is an interesting shoe. I would not hesitate to buy it for its running comfort (the initial discomfort would not change my mind), great cushioning and definitely the connectivity to Map My Run app. I would say as a smart tool it definitely positively surprised me. Even though it is true that there is quite some space for improvements in connectivity to other devices and apps. I would rather then use it as a complementary tool for the app than as a main source of measurement for my runs. Personally, the best part is, that it really looks cool and the design that is simply impressive.
Under Aemour Hovr Infinite