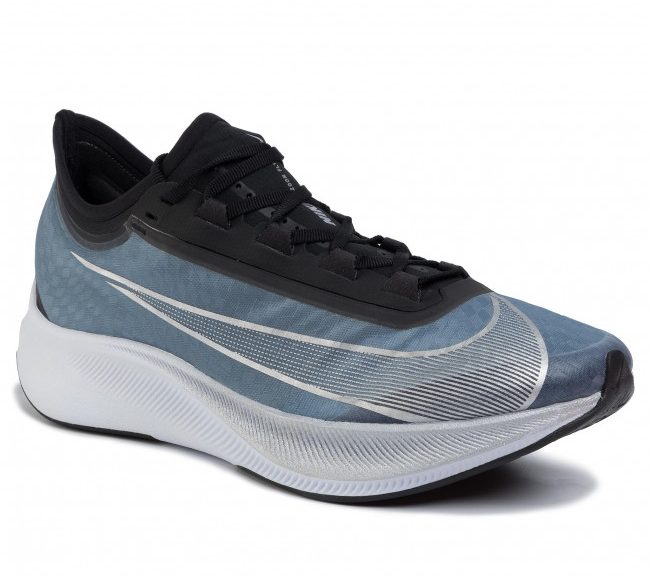 Nike Zoom Fly 3
Nike Zoom Fly 3
This is everything but an easy-going shoe. Because, literally, Nike Zoom Fly 3 is a real, running shoe but a running shoe only. Does it sound weird? Opposite is the truth. I am gonna try to explain to you here a bit why and what you can exactly expect from this Nike model. To make it even more purposeful reading, I will also mention what you should definitely not expect from this model and furthermore, what this running shoe should be absolutely avoided for.
Foremost, I need to mention that I tested it almost for everything. Gym, walks, hiking the same as long distance running. In total, I finished around 100 kilometers (60 miles). And what I need to also say is that I've never seen in my "running life" such an interesting, but specific model as this one. Nike Zoom Fly 3 goes basically into some real extreme. Its most significant part is definitely the React midsole. Foremost, its midsole in this case doesn't look like other Nike React midsoles at all (see Nike Legend React or Nike Epic React Flyknit 2).
But so be it. It is what it is. It looks cumbersome but during runs feels highly responsive. It is huge from look but feels lightweight anyway. Its weight reaches just 250 grams (8.8 oz). Well for Nike, that actually means something. When you look at other Nike models and you compare them, this Nike Zoom Fly 3 is actually among the heavier ones. Still uncomparable to shoes from Brooks, though, that mostly get over 300 grams (10.5 oz) very easily.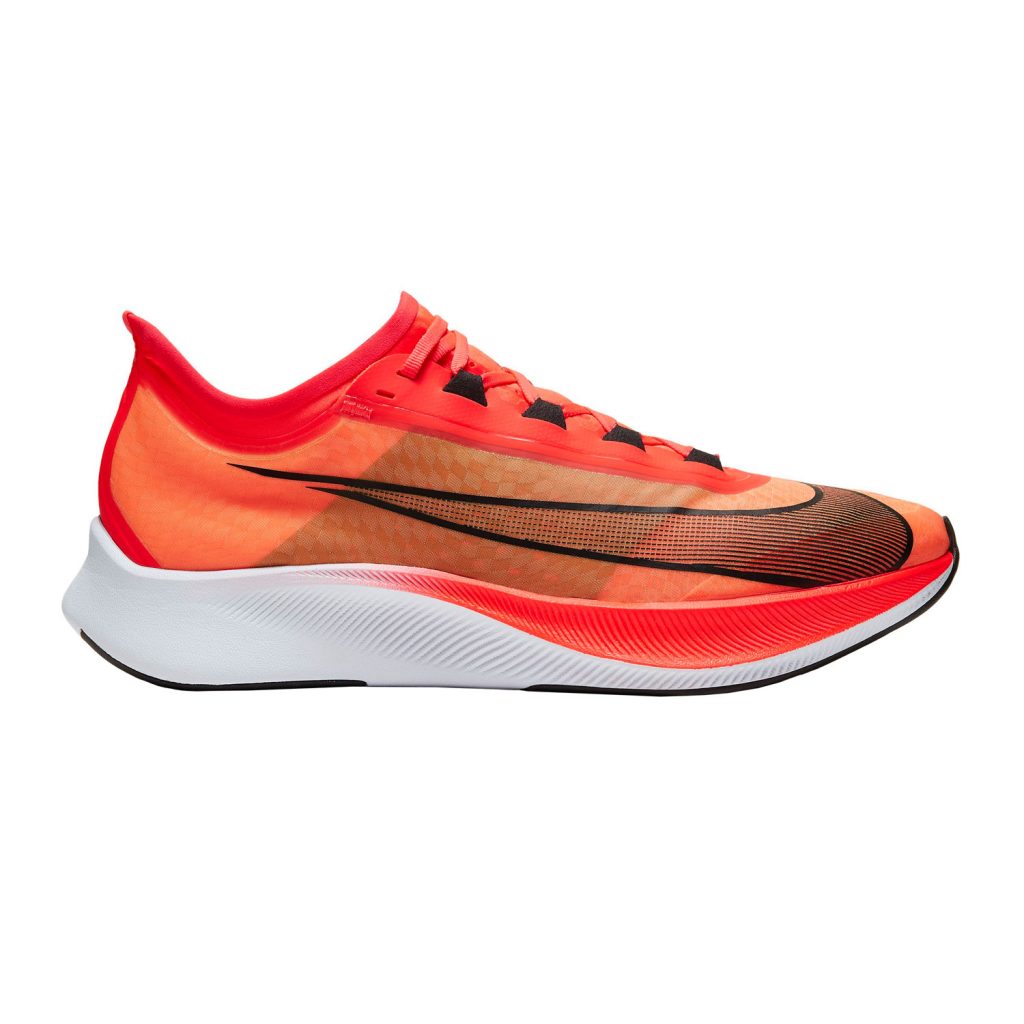 What I am trying to say is that this model looks like something else than what I afterwards experienced. Having it for the first time on my feet, I must admit, that there was one big unexpected surprise. And I really didn't like it for the first moment. The shoe has a very narrow profile. It is made as very aerodynamic with the whole shape. The upper is shaped the same as the soles. You can see it in the picture that I added below. The problem that stems from it is that Nike Zoom Fly 3 feels unstable if you do anything else than running. That I am exaggerating? Not really, to be honest. Before you go and spend your money for this expensive model of running shoes, definitely take into consideration this aspect. It is the most important and noticeable thing.
If you leave out exercising in the gym, working out, doing complex movements and hiking on rocks, you can be sure that you are safe for injuries. It feels safe just for running on paved roads. I almost twisted my ankle when taking these shoes for a run to the hilly forest. So be prepared, this is everything but a multifunctional shoe. It perfectly uses the React midsole while giving back lots of energy on sprints and during long runs. And then, as a bonus, there is this carbon plate inserted in the midsole. That carbon makes the shoes very firm, so that even after a long time, it shouldn't get worn out. I can just confirm that I haven't seen any difference between the beginning and now. In my opinion, it delivers what it promises…. The higher durability. Compared to Nike Legend React that I tested before, the midsole is not that soft. And that is caused right because of the carbon plate.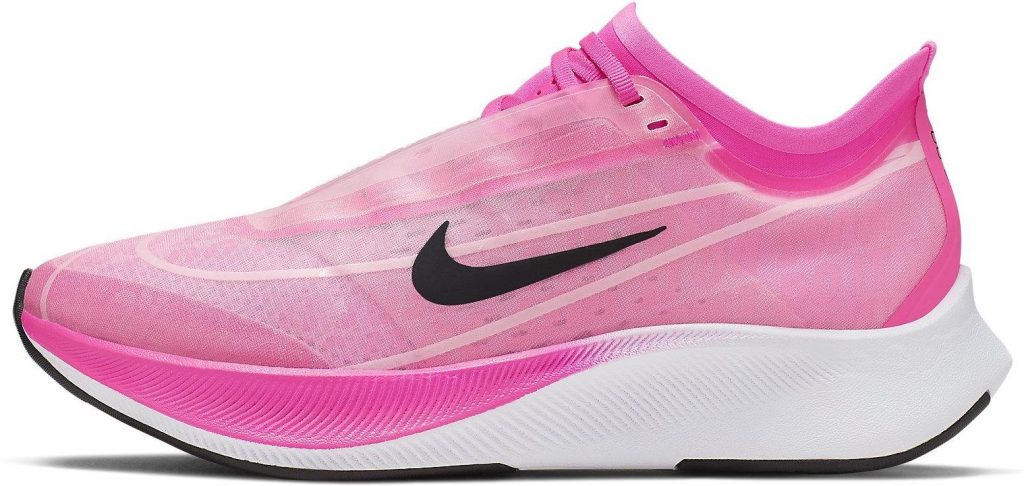 I think that as for midsoles, this racing running shoe offers one of the best preconditions for high speed running. What adds to it is the upper. From the visual perspective, it seems a bit weird because compared to the midsoles it is very, thin and thus, with high profile it looks a bit unbalanced. I would almost say that it may look as if you were running on the shoes and not in the shoes. Besides, it is almost identical to a more expensive version of these shoes, Nike Zoomx Vaporfly Next%. To be honest, the two models are really similar to each other. And I would say that they made this model on purpose as a cheaper alternative of Vaporfly Next% which is literally, crazily expensive (you can check it here as well).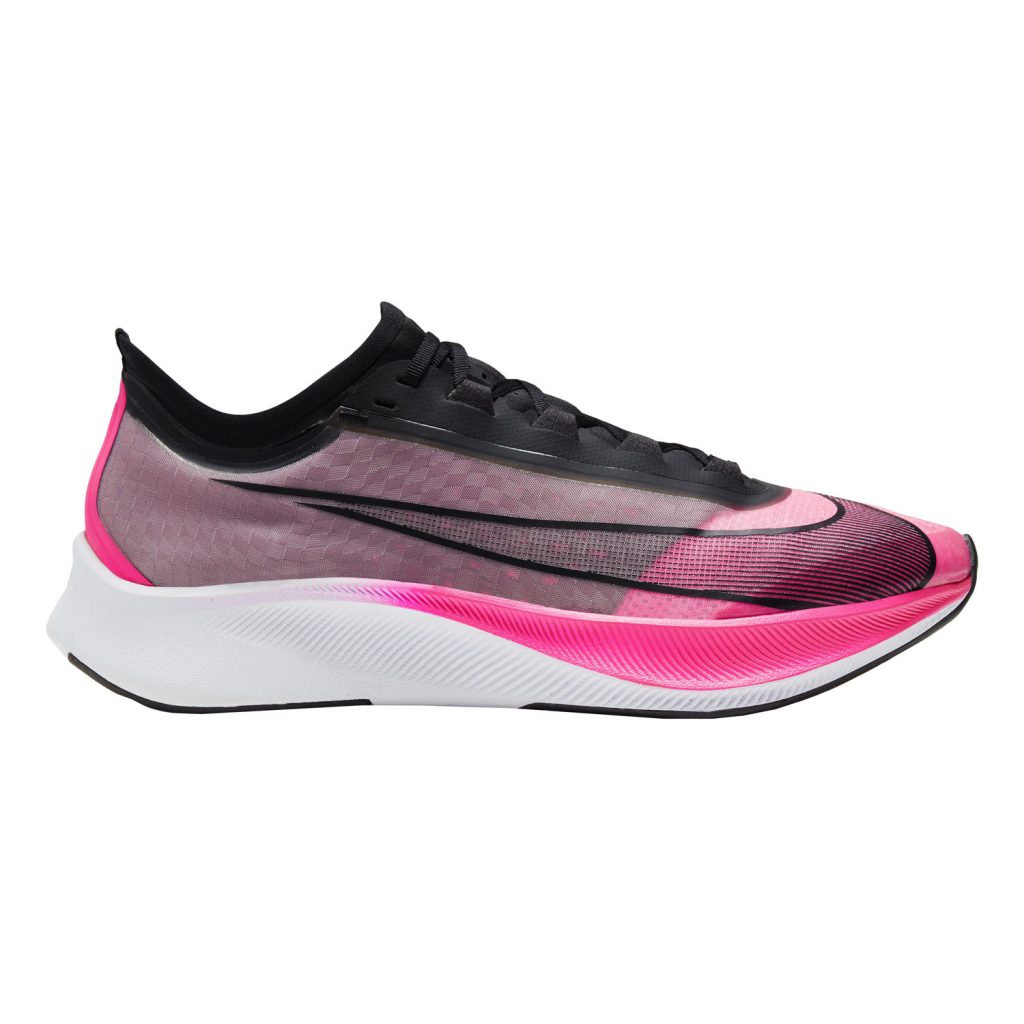 I hope I haven't forgotten to say anything that I wanted you to be aware of. If you had any other questions regarding Nike Zoom Fly 3, please leave a comment down here and I am gonna answer to you ASAP. I must say that overall, even though there were the problems that appeared with this shoe and that I outlined, I think Nike Zoom Fly 3 is simply awesome! I loved it for running, I wouldn't buy it for anything else. That's it. Simple as that. Check more personal reviews on Amazon.