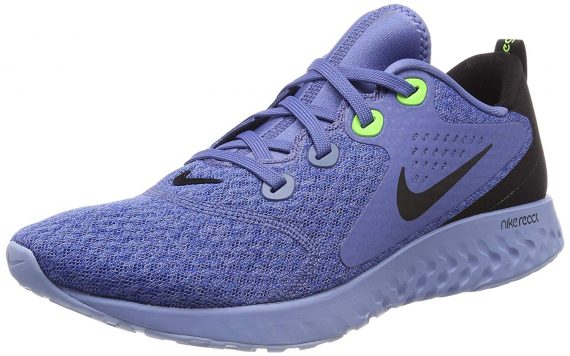 Nike Legend React Review
Nike Legend React Review
Nike Legend React delivers exactly what a casual, medium-skilled runner would expect. Definitely, after having them tested on the road, you will be thinking something as, "well… this model was really worth spending my money because it got far beyond my expectations". It is so light (between 180 and 260 grams both men and women version) and comfortable that it is barely possible to find some competition for them.
Mostly, when I see a lightweight shoe, it is at the expense of quality. The same applies for Nike, Puma, Adidas and many other brands. Because as soon as they make a light model, the top of shoe is fake and shitty, the material of outsole gets wasted fast or the midsole feels firm and without any support. Simply, because there is almost no good material inside of the midsole of the shoe…
This shoe? Very interesting… Except for the comfort and lightness, you will probably like the design. Right from the first sight you can notice there is some similarity to Nike Odyssey and Nike Epic. This sort of "hybrid" between those two models offers a version that doesn´t look so massive, huge and clunky but instead, takes over their attributes.
Similar to Nike Epic React, it has the outsole. The pattern is almost the same but Nike Legend React has better traction on a wet surface (tested on the road and forest after rain) and therefore, I would say it definitely feels safer. The rubber didn´t squeez as it sometimes happen, so definitely thumbs up.
Compared to Nike Odyssey React, the mesh uppers are very similar to each other. If you take a look at Nike Legend React, the overall design doesnt appeal as that the shoe is really huge but instead, it looks rather neat, almost could be said thin but still feels very resilient and protective on your feet. Simply, the top material is good.

Where the shoe is not that outstanding is unfortunately the midsole. It feels firmer than it looks and for long-distance marathon runners, who prefer thick cushioning it will not be the right option. On the other hand, it is a shoe worthy 100 dollars nowadays. Thus, you cannot expect there will be everything included.
Overall, the shoe is definitely good value for price. Nice design, great traction, light shoe and soft comfort for affordable price tag…. you will have difficulties to find somewhere else. Without any doubt, with this Nike model you will experience lots of fun and highly likely you will be proud to wear them 😉