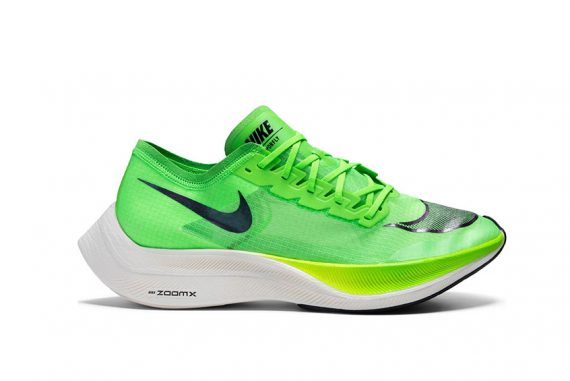 Nike Zoomx Vaporfly Next% Review
Nike Zoomx Vaporfly Next% Review
Since summer 2019, Nike Zoomx Vaporfly Next% came to be a very hot topic between runners from all around the world. Well…, no surprise. There is a pretty good reason for it. Because if you are not into the most recent runner's world news, then you should know that I speak about the fact that it carried the famous long-distance runner Eliud Kipchoge to its great victory at London Half Marathon of 2019.
Long story short, we decided to bring the light to the world from our perspective and point out if Nike Zoomx Vaporfly Next% is as good as they say. And the overall feeling? It is literally lovable. After having them probed on some 50 kilometers, I can say it is a really good shoe. Please if you are a long distance runner who likes Nike, definitely keep reading!
Overall, I must say I really enjoyed the whole experience. The shoe is promising to give back up to 85 % of energy that you put into each tread. Which is supposed to be more than with the previous models using Zoom midsole and not Zoomx. To be honest, I don't believe much in these big words and even less do I believe that it is somehow measurable. Anyway, I can confirm the shoe is rebouncing extremely good. It is comparable to energy back giving of Saucony Freedom ISO and of course to Nike Air Zoom Pegasus 35 Turbo. In this case, I was excited about running the first few kilometers and compared to Nike Air Zoom Pegasus 35 Turbo I must say they are even better. The shoe requires some good technique and especially to be physically well prepared for it. It literally chases you fast forward and if you don' t have stamina this shoe will make you tired very fast :).
Another top point, the very thin upper fabrics. I don't really know what the company did and I assume barely someone from the general public knows the real secret of the material used. But it is true that it is so thin that even though the midsole is a bit bigger and the same rubber outsole, Nike Zoomx Vaporfly Next% is incredibly light. Perfect for marathons and even ultra-marathons as an alternative.
If you remember, in our last review we took a look at Nike Zoom Fly. While Zoom Fly had a great shape for flat feet, Nike Zoomx Vaporfly Next% goes along that trend as well and definitely offers space enough in the toebox. And thus, again, we can speak about a great shoe for people having bunions, in other words haluxes. But that's not the main story here.
What is even better in this case than in Nike Zoom Fly is the portion of cushioning. It is outstanding. Anyone having problems with knees or ankles should definitely think about them as a possible future running shoe in their main running equipment.
So everyone would ask, what are the cons of Nike Zoomx Vaporfly Next%?
Well, there are not many to be honest. Of course, the price tag will snap you into face as soon as you see it. And yes, the price it is simply in my opinion way too much. On the other hand, you are paying for the brand tag of Nike and it was released just before this summer of 2019 so with narrowed eyes, it is understandable. As for the parameters, I have almost written everything I could have remembered. The only real disappointment and an aspect that everybody spoke about in front of me, was the stripe of foam protection of Achilles at heel part. But to be honest, I did not notice any difference between a shoe that has that and a model that does not. So let's say it is the last minor negative.
Otherwise a great shoe for really demanding runners focusing on high tempo on high distances. For me, except for the price it is absolutely a TOP running model.