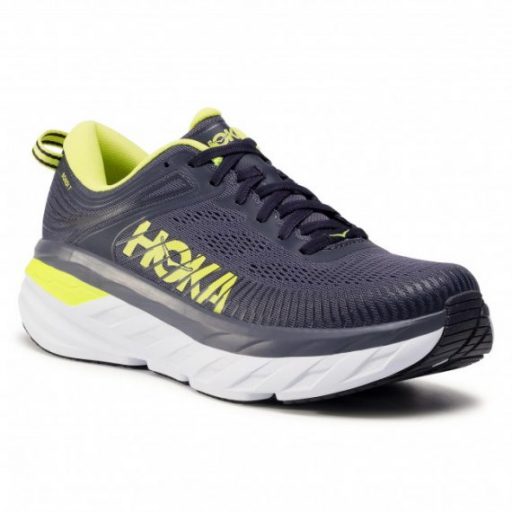 Hoka One One Bondi 7 Review
Hoka One One Bondi 7 Review
Hoka One One Bondi 7 is a real game changer! With the very thick midsole cushioning that is 33 mm below the heel and 29 mm in the forefoot, it won't allow you to sit at home, not even for a minute. It will push you on the track even if you didn't want to. We took a look at this model and did some testing on runs of approximately 5-10 miles every second day for around one month and a half throughout the summer 2021. Why did we get so impressed by Hoka One One Bondi 7? Whether to buy it or go for some other running shoes model, you should be able to answer to yourself after reading this review here.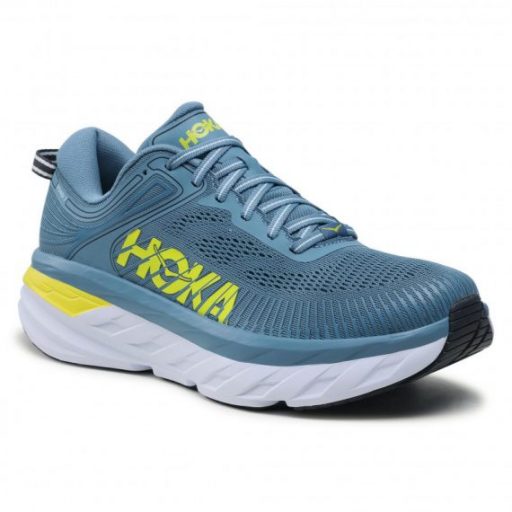 First to be said, our tester took this model for running on paved the same as on unpaved roads comparing it during wet and dry weather. First in the city, afterwards in the countryside. And she said she did not feel any difference no matter the kind of surface and weather conditions. We found two reasons behind it. Both are in the midsole of Bondi 7. Firstly, there is Meta-Rocker Geometry which secures a stable ride between the impact and toe-off. Meta-Rocker is about how the company gives shaping to running shoes which afterwards makes the shoes very stable and therefore safe for running. It is Hoka´s patented technology.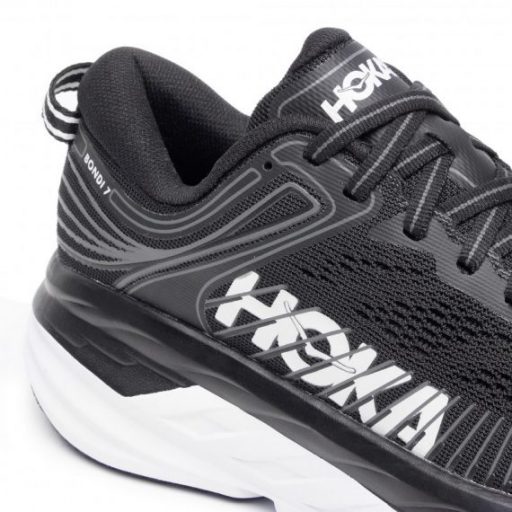 What also adds to the stable ride, are the great black rubber pads on the outsoles, securing solid grip on the wet surface. So that even though Hoka One One Bondi 7 have extremely high, thick midsoles they keep the appropriate, stable ride during the rain on steep slopes, the same as on outside floor tiles. That is the difference compared to Nike Zoom Fly 3. That one has a similar shape and midsole cushioning. According to our reviewer, a slightly narrower profile. Even though these two models are from the same price category, Hoka One One Bondi 7 feels safer, more stable and simply better than the one from Nike.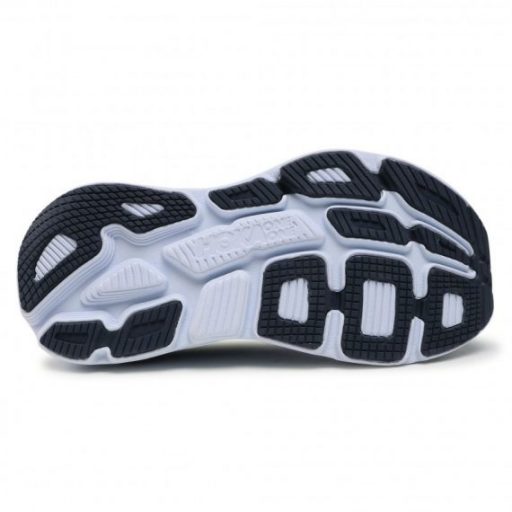 As we already partially indicated, Hoka One One Bondi 7 are truly very special running shoes. They feel very comfortable because of the huge amount of EVA cushioning that is inserted below the whole foot profile. If you decide to buy these shoes and expect to limit the shock impacts as much as possible, then this is the way to go! EVA gives Bondi 7 a highly protective aspect: the cushioning saves your knees and ankles better than most of the average running shoes. You will love Hoka One One Bondi 7 especially when you are a long-distance runner or when you are overweight.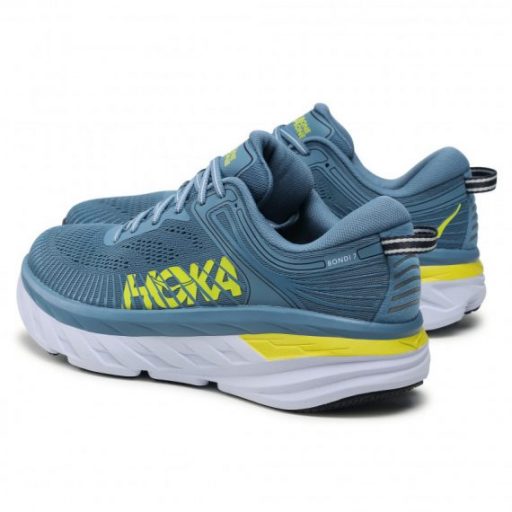 If you are one of those people mentioned above, you will most likely go for them. A similar alternative to Bondi 7 that our tester also mentioned are Brooks Ghost 13. But there is a difference between them. Brooks Ghost 13 feel overal a bit lighter than Hoka One One Bondi7.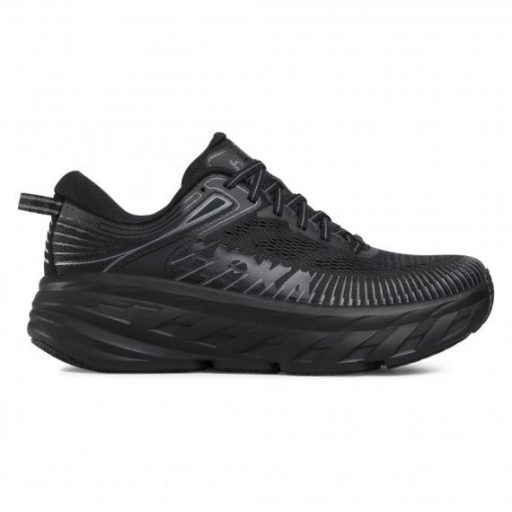 And now,  we finally get to the biggest weakness of these otherwise perfect running shoes. Their heaviness… Our tester, she had the model of Hoka in the size 7.5 US weighing around 6.5 oz. Pretty good for a woman´s model of running shoes. In the men's version though, the size 10.5 US was around 12.35 oz. For the same sizes, that was approximately 20 grams more for than in the case of Brooks Ghost 13. Speaking openly, Hoka One One Bondi 7 are great for cushioning but too heavy.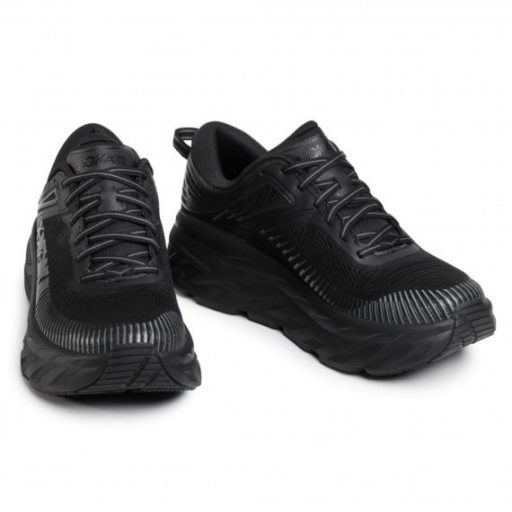 Unfortunately, our tester said that she felt it whenever she took the shoes on. Even though she got used to it, she could still feel a bit of excessive weight even after the whole month. It is logical though. You have to compensate for the fact that the shoes are made with highly absorbing cushioning. On the other hand, what you don't have to be afraid of is the comfort of the upper. The part that surrounds the ankles is padded, contains memory foam and thus moulds softly around your legs. It adds to the overall comfort a lot.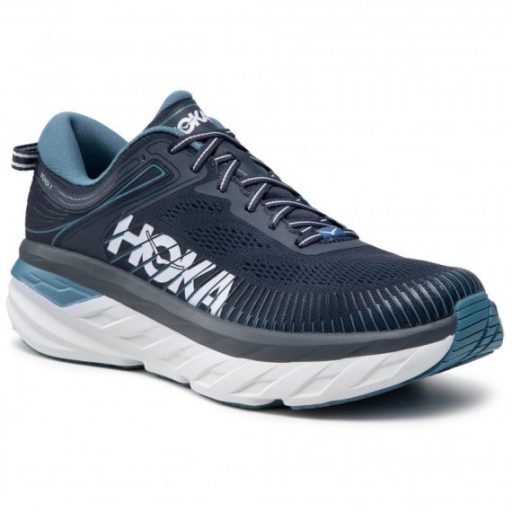 What our tester also appreciated was the breathability. Even though she did not try the Hoka One One Bondi 7 in freezing conditions, she said it remained balanced over time and without a change even when it was hot during the summer.
Well, how do you like the shoes as for the design? We gave it a thought and came to the conclusion that it may seem a bit bulky. But if you buy Hoka One One Bondi 7 in the black version, it actually looks leaner. You can get it in the black version in men´s the same as in women´s. Generally speaking, we like this model a lot. For its perfect cushioning that may save you from knee and ankle injuries it is definitely worth the money.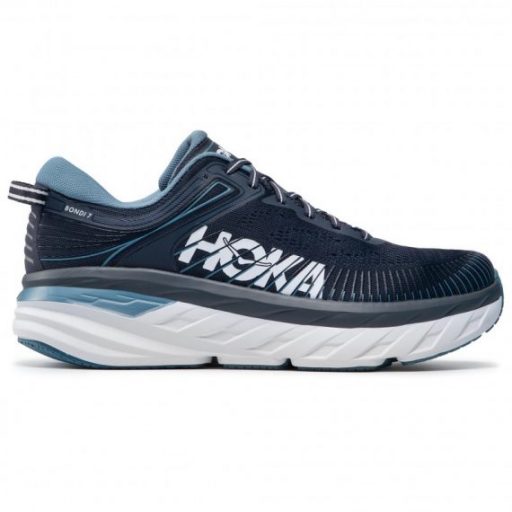 It is so comfortable that even though it is on the heavier side, it is worth the consideration for at least middle runs, for some for long runs. It is a high volume model that is not one of the fastest, true… but if you don't mind it and preferably you like to keep a slower tempo or you are overweight, it is one of the best models to choose from.