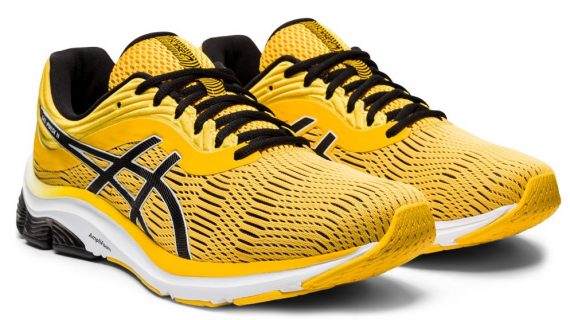 ASICS Gel-Pulse 11 Review
ASICS Gel-Pulse 11 Review
When testing new running shoes, it is not always easy to find a one significant aspect to mention about a model. Some running shoes have perfect cushioning or absurdly terrible design and at the same time great durability. In the case of Asics Gel-Pulse 11, we came across a different pattern. The shoe is not bad, nor excellent for any one particular reason. But in the end, because it is a highly spoken series of running shoes, with a long-lasting history on the market, we decided to test it and bring light on it anyway. Besides, no one said that an insignificant shoe cannot be a good shoe. 😉
Let's take a look at the most noticeable aspect for now. The midsole. While the previous versions such as the old Asics Gel-Pulse 8 or the latter Asics Gel-Pulse 10 had the simple EVA, or adjusted SpEVA forms, tthis time, Asics came with an adjustment and inserted a whole new midsole, the AMPLIFOAM. It covers the midsole from toes to heel section. And it promises an ultimate shock absorption for the purpose of protection of the body joints. Such as knees, ankles and hips.
I personally tested the shoes for a one run. Not more. And it gave me quite of an impression about what to think of it. In my words, it is a softer type of midsole, but nothing special. None of what you might have read in a product description somewhere on the official webpage for example. It is just a running shoe. It feels good, but just good.
Next, the shoe is a high volume model, with a medium to higher drop of 0.3 inches. So that for anyone who runs over heels, this Asics Gel-Pulse 11 should be a good match. The higher heel compared to toebox should be perfect for transitioning if you are a heel striker. Again, I didn't really notice anything exceptional from the shape and the midsole at once. It is perfectly average. If I take a look at Asics Gel-Contend 5, it is quite a similar model. Both having a higher drop, both having AMPLIFOAM and at the same time, both having the Rearfoot gel filing in the heels. So from the runner-attribute perspective, Asics Gel-Pulse 11 is nothing new below the sun than a copy of the other one.
But!!! Yet, it is quite new as for the upper. Asics Gel-Contend 5 is not seamless. The same applies for Asics Gel-Pulse 8 (I tested both before). But this model is made up of a one layer mesh upper without any seams. Thus, it is comfortable and it also feels quite light. What I loved the most in the end about Asics Gel-Pulse 11 though, was the design. Again, it is not that special, nor has it a special colourful pattern. But it is definitely shiny. The stripes of the Asics logo shine over the whole shoe even at night. I wore them at night so I can personally confirm that. For that one aspect, I think that Asics Gel-Pulse 11 might be considered even exceptional. 🙂
Other than that, did you notice that I didn't mention any drawbacks so far? Well, even though I consider this shoe unexceptional, I didn't think of it as of a bad model. It is actually good. Comfortable with some decent cushioning… In my opinion, it can be definitely a leisure running shoe for medium length distances. Moreover, a running shoe that looks nice and that you don't have to be ashamed of to take it outside. For further reviews and personal opinions, check it on Amazon.