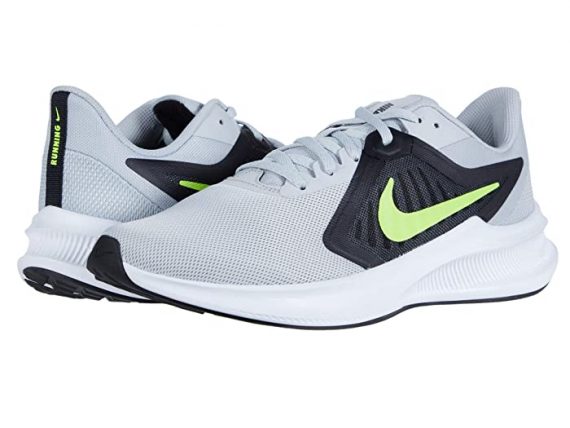 Nike Downshifter 10 Review
Nike Downshifter 10 Review
Nike Downshifter 10 is a typical budget friendly model for undemanding runners, runner beginners and casual runners. Yet it offers such a high portion of cushioning and other great features that it perfectly exceeded my expectations. Several times I thought about comparing it with other running shoes. And in the end, I must say it was everything but a failure from Nike.
Most of everything, I really like two things about Nike Downshifter 10. The unnamed EVA midsole and lightness of the whole shoe. The midsole is quite thick. Not as in case of the top quality Nike models, such as Nike Zoom Fly 3, and not as shock-absorbing as in case of Nike Zoom Gravity. But honestly, it feels overall supportive and protective. As for cushioning, I found it better than Nike Downshifter 9. Which is a great move forward for this series.
Next, the lightness… It is almost unbelievable that a shoe like Nike Downshifter 10 is so light when it's so strongly cushioned. I tested the model in my size 9 (UK) and it weighs only 257 grams. That's by far one of the lightest models that I ever owned as a man. Normally, running shoes get over 320 grams. So in this case, you can easily take this shoe not just for running but for indoors exercising or workouts as well. You won't feel it as a heavy load at any moment.
Other than that, the shoe upper is made of a whole one-piece synthetic upper, complemented by TPU piece on the middle part of the shoe. Together with lacing, that keeps your feet nicely locked inside and adjusts a perfect fit all the time. Nike Downshifter 10 is also pretty wide in the toebox. If you have as a woman developed haluxes, this might be the good option for you.
Overall, I really liked Nike Downshifter 10. I tested the shoe for more than 30 miles only. So I cannot say how durable it really is. But from what I have seen and other performance as well, I would say it is great for short to medium-distances and also lighter trainings.