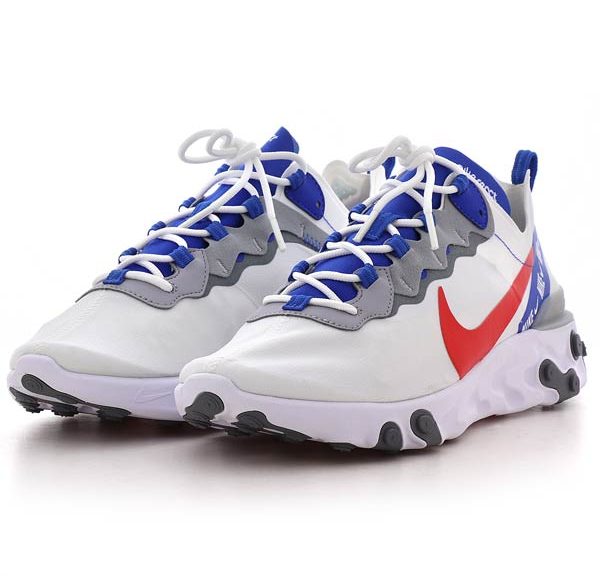 Nike React Element 55 Review
Nike React Element 55 Review
If you want sneakers that will make you stand out of the crowd, then you are on the right track! Nike React Element 55 has a very original design and can show off with the React midsole. But is it overall a good running shoe? We will take a look at the model and try to answer this question step by step here below. 🙂
Nike React Element 55 is available in both men's and women's versions. As a successor of Nike React Element 87, it promises to be more durable for both upper and midsole. I haven't had a chance to make testing of the earlier version Element 87, so I cannot refer to it. But I tested Nike React Element 55 in Orlando, in Florida, for running more than 30 miles in the city. And I can say that I cannot really imagine what quality must have Nike React Element 87 been because these shoes Element 55, are already pretty inappropriate for running.
The React midsole is pretty good. That is for sure. It is soft but responsive and so light…. When I put the Nike React Element 55 on my feet for the first time, I barely noticed the shoes. And that was in the beginning, at the time when you mostly feel the difference compared to the previous model that you had. But no surprise. The shoes have only around 7.7 oz in my women's version (US size 8). This aspect, the good midsole, I consider as being the most important aspect of any running model. But you cannot have a good running model based just on great, awesome midsole. The upper needs to work perfectly together and secure the best fit possible.
That unfortunately is not the case of Nike React Element 55. The upper, first of all, is made as very thin. The fabrics is like paper (even though they used nylon type of material) and which leads to the fact that the shoes don't hold the structure. There should be either more seams or the material used should be thicker. The shoes look actually wrinkled and creased when you put them out of a bag or even when you put them down off your feet. Their shape is broken. Next, the upper material is thin which adds to perfect breathability of the shoe. Unfortunately, the upper got worn out after just those 30 miles that I used the shoes for. Especially in the toe box, I could see the fabrics getting weaker on the top. So the upper is not just thin but also of low quality. That gave me a clear clue that Nike React Element 55 is not the best option for any kind of running activity.
As for that sort of "lifestyle" appearance. Yes, I liked it. Quite a bit. And it was also a reason why I decided to test this so called running shoe. But to be honest, because of the fact that the shoe has such a low durability, I wouldn't place it among my running shoes. Nike React Element 55 is a nice, stylish shoe that would be the best for walking around. Unfortunately, nothing else.