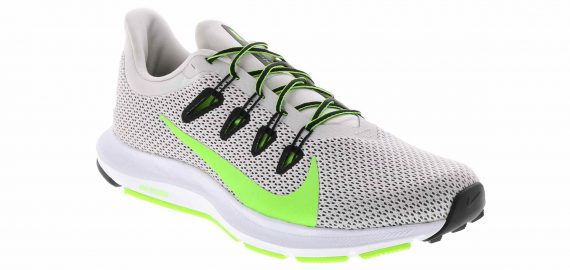 Nike Quest 2 Review
Nike Quest 2 Review
When I saw Nike Quest 2 for the first time, I immediately felt excitement for trying this model. Why? Maybe it was the shape and visible layer of cushioning and therefore my instinct telling me that these shoes will be good for long distances or possibly the fact they were for an eye-catching price. All in all, the truth is that they definitely haven't disappointed. They actually perfectly fulfilled my expectations and for a pleasant price, they persuaded me to put them between my favourite Nike running shoes until so far.
In the first place, I want to point out that Nike Quest 2 are extremely cushy, soft and comfortably fitting shoes. At least for me, they feel quite wide. From the very beginning, when I put them on my feet, they felt actually really wide. Wider than any other running shoes I have tried before. So runners having flat feet might definitely appreciate this model. To those having the feet rather narrow, I would strongly recommend to try the shoe in the store first. Above that, even though the wideness is highly comparable to the models from Altra or specifically the model from Adidas, Adidas Duramo 9 or Hoka One One Clifton 5, that I used for running before, Nike Quest 2 is a bit lighter than those models. That's another strong point that I found with these shoes and why I really like them. Even though Quest 2 is not as light as for example Nike Free RN Flyknit 2018 (roughly around 220 grams), they do not get over 260 grams, (my female version counting for 240 grams). So I consider it as a standard, lightweight running shoe which Nike always managed to achieve very well. In case of Nike Quest 2? No exception…. Reaching long distances in these shoes will never be an issue. You will barely realize having the shoes on your feet.
Not only the weight, but also the cushioning of Nike Quest 2 reaches overall good performance. The midsole is formed from Phylon layer and it is pretty thick, cushy and soft. The shoe even slightly helped me to decrease the shocks that I felt being transmitted to my knees with other models. I'm sensitive to it and regarding my long-lasting problem with running, these shoes with their shock absorption made at least some difference. I ran 15 kilometers several times through a bit hilly terrain and I almost havent felt my knees. I don't think to be honest that the cushioning would be that outstanding, but it definitely works well. Definitely points up for this aspect as well. I enjoy them. Where Nike Quest 2 keep a bit staggering, though, is the overall design and colours. It is practically very basic and looks as any other running shoe from Nike and there is almost nothing catchy or interesting that would make me buy this shoe for its design. Colors are very similar and copying the models of Nike Pegasus or Nike Free that I had long time ago.
All in all, Nike Quest 2 is a good shoe. It is true that they are nothing new below the sun but their durability is fine and at the same time cushioning has definitely something to offer. For the overall price that they cost now, they can greatly serve to anyone who isn't too demanding. They are average, but for the price excellent.