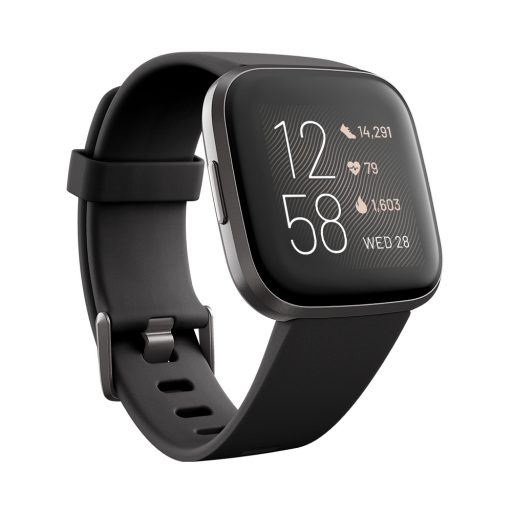 Fitbit Versa 2 Review: Great Fitness Smartwatch
Fitbit Versa 2 Review: Great Fitness Smartwatch
We found the Fitbit Versa 2 to be a perfectly balanced mixture of multifunctional smartwatch for phone and greatly tuned fitness band at the same time. Truth to be said, there is a great step forward compared to the previous models. But let's focus on this version itself. As for the running activity, there is a lot to prais.
Before you start running
First being said, before you head to the track, you need to get started by downloading the Fitbit app. After that you go through the installation process. Everything feels very intuitive even for a first-time user but be patient with the time of the steps. It takes a bit longer, even around 20 minutes to get through it. This was our case and unfortunately, it felt even a bit annoying to get the firmware upgraded. So relax and be patient! In the end, it is worth it…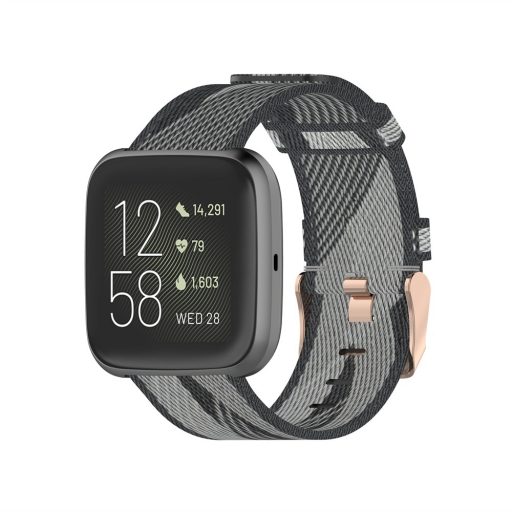 Appearance
From both perspectives, this smartwatch is really amazing. There is a big advantage but classic, they are unisex. The collar comfortably fits on the wrist and you can modify it easily. Also, it has a beautiful, large square-shaped AMOLED display. The display's exactly 1,39″ so that even if you have bigger thumbs, controlling and setting up different apps and functions probably won't be an obstacle for you.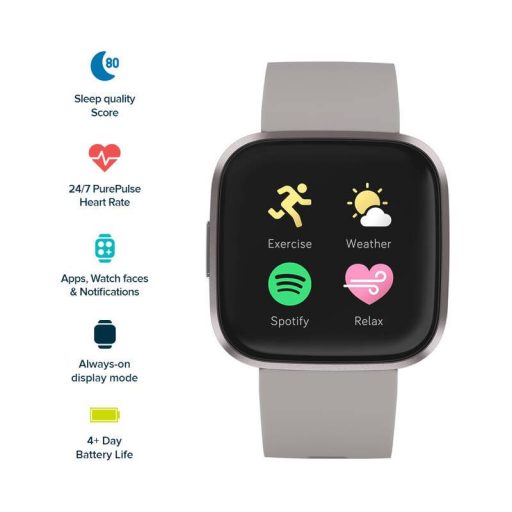 Next, Fitbit Versa 2 has Gorilla Glass. It protects the watch from external damage and is highly resilient against pressure. That was a perfect move from the producer because it makes working out or running with the Fitbit Verse 2 ultimately safe. We tried to simulate falling with the watch on the rocks and the watch remained unchanged. Quite impressive…
Functions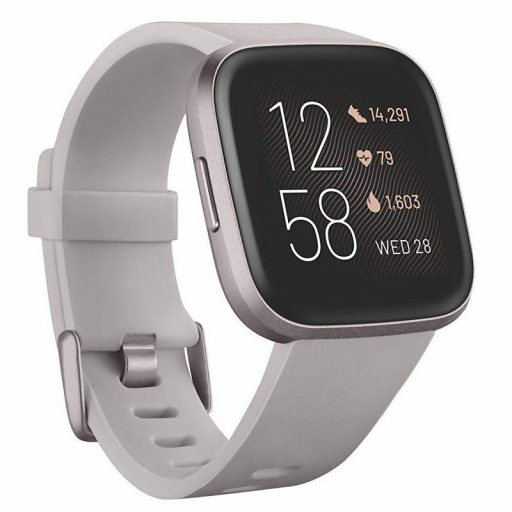 We also tested the watch while running and tried to change between measurements such as blood pressure, step counter, calories intake, hydration or running mode right on the track. Everything was easily doable. Fitbit Versa 2 is also equipped with greatly functioning notifications on the display and with a vast number of apps for downloading.
As soon as you are not a fan of running, you will most likely love the connection between Fitbit App and the inserted Fitbit trainer. Especially, if you prefer to be guided by someone else, the Fitbit trainer motivates you to move a lot. And not surprisingly, it rewards you for accomplishing different goals and targets. In our opinion, this is nothing new below the sun. 
You may find different training apps just on Google Play or App Store for your phone. But it would be a bit of a shame and also a bit weird if the producer did not develop something unique for their own product.
What we missed
There is no integration of GPS in Fitbit Versa 2. Sure, you may most likely find it useless because we tend to always wear the watch and the phone at the same time. But when taking it for running outside, you don't always want to stay connected and don't always have a chance to keep it in a pocket. Also, we sometimes prefer to feel a bit liberated from the phone itself. So that this function is definitely a next possible step for improvement.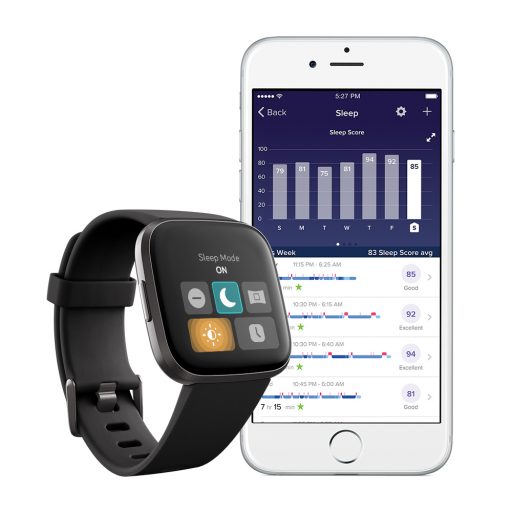 What we also didn't like was the fact that you need to have a paid premium for Fitbit App. Otherwise you cannot use it fully. That is quite tricky and unfair when you realize that you already have to pay a full price for Fitbit Versa 2. And that is not one of the cheapest… On the other hand, some people may argue that they couldn't connect it to their phone. That was not the case for the iPhone 11 and 12. The connection worked very fine 🙂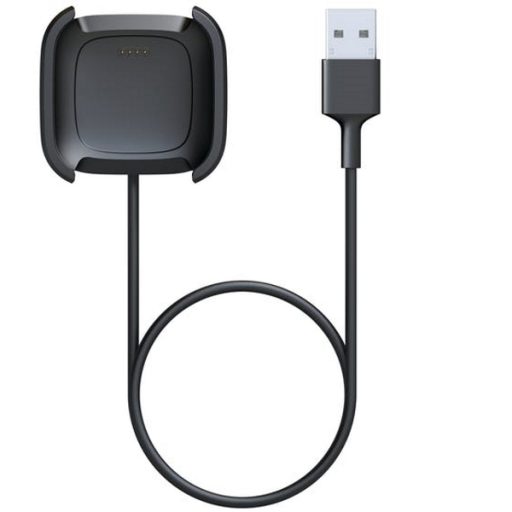 A small but notable detail is that the Fitbit Versa 2 has a different USB charger. The producer made his own charger so that you always need to take it into consideration when travelling somewhere. It would be way more useful if it had a standar USB-C or micro USB.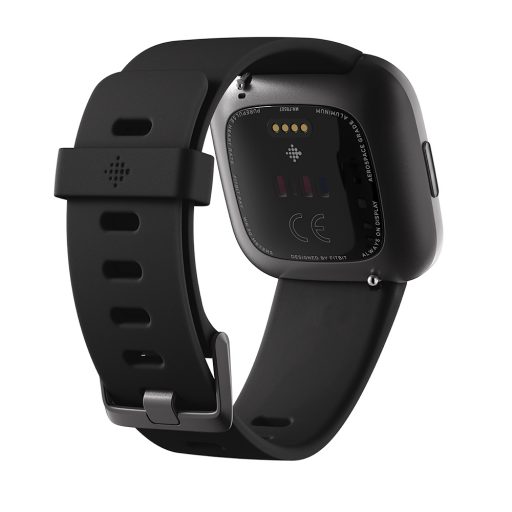 In the end
We loved Fitbit Versa 2 for its ultimately elegant and practical design and a vast number of highly practical apps. We tested it for running and as for the number of running functions that you may use, it is one of the best smartwatches on the market. Where it could get an improvement is the GPS receiver. It is not inserted in the watch so that you must use the watch with your smartphone at the same time. If you are fine with a paid version of the Fitbit app and you don't mind to pay monthly a bit more, you will most likely enjoy Fitbit Versa 2 up to the highest point. Not just for running but for many other sports activities as well.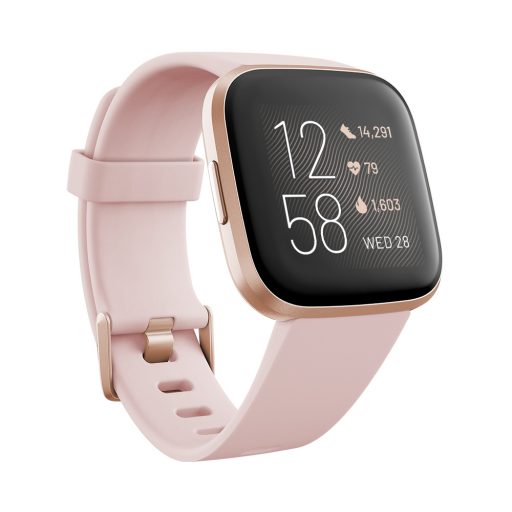 Fitbit Versa 2 Smartwatch