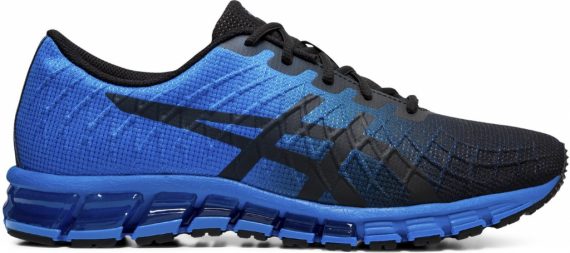 ASICS Gel-Quantum 180 4 Review
ASICS Gel-Quantum 180 4 Review
Highly stylish design combined with moderate cushioning and medium weight for average distance running. That's what I was thinking about Asics Gel-Quantum 180 4 when I've take the model for running for the very first time. I have had an opportunity to try these beauties for longer though and tested them for more than a month overall. So what can you expect from these shoes? We are gonna take a look at the strengths and weaknesses in the few lines below and hopefully, make your purchasing decision easier.
As for design, I always loved having running shoes that are somewhat interesting. I don't like when running shoes are coloured just simple neutral black or blue or any other one colour. My Asics Gel-Quantum 180 4 combined white upper with a yellowish midsole changing into a blue heel. Complemented with the dark lacing, I found Asics Gel-Quantum 180 4 to be very cool looking. As for fit, compared to the previous version Asics Gel-Quantum 180 3, they are unfortunately very similar. The heel is raised and a bit going against Achilles tendon. I broke into these shoes after three weeks and then it felt absolutely fine. But be prepared that the first runs might be a bit painful. For this comfort aspect, I must say that they are not the best running shoes that I've ever worn.
Forefoot the same as rearfoot got the GEL cushioning. I found it in these shoes nicely responsive. I felt the cushioning also slightly a bit better responsive than in my previously tested model, the Asics Gel Quantum Infinity. And a bit lighter as well. It reached in my man's version around 11.5 oz (325 grams). But in general, not the lightest model among running shoes either. The overall support by Ortholite insoles is pretty fine. Even though I have a bit flat feet, I haven't felt the arches. The support and structural shape of Asics Gel-Quantum 180 4 is definitely sufficient.
The upper is a standard one-piece mesh upper that offers nothing new. A bit sad, but on the other hand, it is breathable, doesn't add weight to the shoe so that it fulfils its purpose pretty much as expected. It has nice colours as previously mentioned so not worth the criticism, it is absolutely fine for running.
In the end, the upper combined with the midsole and outsole, they don't feel cheap or of lower quality at all. You will like this shoe, just go and try it in a physical store before the purchase. That's my advice. Because if it doesn't fit well with your Achilles in the first place, it might be a struggle later. I got used to the weight after that one month of testing as well so in the end, I can say that it is a pretty good quality running shoe for any runner.