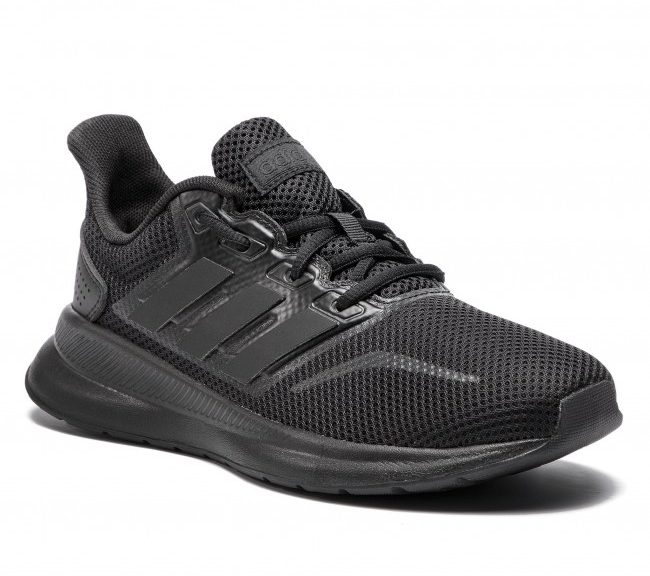 Adidas Runfalcon
Adidas Runfalcon
I always loved running shoes that were about much more than running. Basically, running shoes have never been for me just like a tool that is supposed to serve its purpose. I always perceived it as a real noticeable part of my looks so that when I got from my dad a while ago Adidas Runfalcon, it really did a big click in my heart. For its perfectly light, unobtrusive and very practical design, I fully enjoyed it for more than a year until now. But how does it stand in other aspects, then, right? Step by step….
Some technicalities
I still consider technical aspects to be equally important as a design as well. In case of the Adidas Runfalcon, I will be a bit critical, but positive first. The overall weight is good. It got slightly over 300 grams in my UK size 9.5 which is nothing terrible. Way much better than some Saucony or Brooks I tried before. Next, Runfalcon has a bit undersized tongue so that it optically looks pretty cool but when getting inside, it can slow you down because you cannot properly hold it. This problem surfaces in time with fast putting on. But nothing really as a big deal.
What troubled me in the beginning a bit more with this shoe, is the overall sizing. Mostly you see people complaining that the running shoes are narrow and thus, had to exchange them after a purchase. Surprisingly, opposite is the truth here. Adidas Runfalcon actually runs very wide. Do you have bunions? Then this shoe is definitely for you. They have seriously a lot of space in the toe box. Do you have narrow-profiled feet? Then you should either try to go one size down or take a look at other Adidas shoes. These won't probably fit.
Midsole as a crucial point
If you became a fan of Adidas Runfalcon thanks to my praise in this review, I guess I will disappoint you now. Because this shoe has a pretty uncomfortable, stiff and flat midsole. Not that the shoe wouldn't have arch support, but it feels after three miles of running as running on some concrete. Sadly, that makes the shoe pretty inappropriate for that activity. 🙁 When I said I used it, I meant for casual wearing. For running, it was not the case because I love running usually for more than 3 miles.
As for design…
Perfect. You want something neutral? That is exactly the Adidas Runfalcon. It doesn't look too large nor too bulky, rather elegant. Wanna something for work or walking around? That is Adidas Runfalcon. Do you want something for professional running? Then pick up something else. Other than that, you can also see it at the price as well. It is too cheap to be great for running and it makes in the end sense. If you want it for style and very short exercising, then do not hesitate and get it for yourself.