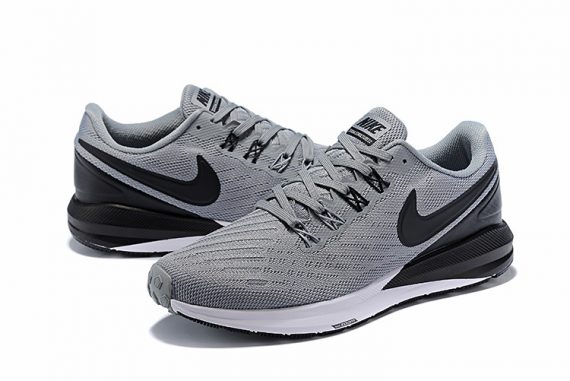 Nike Air Zoom Structure 22 Review
Nike Air Zoom Structure 22 Review
Straight to the point, I tested Nike Air Zoom Structure 22 right after getting it from Amazon. And personally, I consider it a model that will definitely remain in your head and help to solve your running problems if you have atypical feet predispositions. such as plantar fascitis or simply when you have a tendency to pronate more than usual. Yes, you are reading correct. Nike Air Zoom Structure 22 are not just about cushioning as it may seem from the catalog picture. They definitely offer much more. So, let's take a look at what surprised me and what left me cold….
Exceptional stability features
Outstanding and very good. That's how impressive this shoe's stability has been for me. Having it tested both on long (17 km max.) and short distances (normally I run around 5 km), I can say that Nike Air Zoom Structure 22 has been even better than the Nike Winflow 6 Se. The one that I had tried two years ago. The heel counter or let's say plastic reinforcement that is surrounding the great part of heel and ankles helps you to keep the motion perfectly under control over every tread that you perform. Speaking shortly, the possibility of ankle injuries decreases rapidly and the shoe is on the road very safe, no matter the conditions you come across.
Great arch support
I tried the women version and I observed that it is very well made with the arch support in the middle part of the shoe. It is just another aspect that makes the shoe overall very appropriate for pronators indeed. As a pronator, you will feel that Nike Air Zoom Structure 22 has quite some strengthened material on the sides, making the shoe firm and strong and thus the shoe will not allow your arches to "drop down". Overall, you will the shoe highly likely very comfortable.
Weaker durability
Well, even though it is highly stable, it is still a road shoe. So don't expect any more difficult terrain. Just road and that is quite it. The Air Zoom outsole is made from phylon and cushion foam that makes the shoe nicely soft for every step. The softness and responsiveness is somewhat similar to NikeAir Zoom Pegasus Turbo 35, so pretty high, but on the other hand, the durability is weaker. The outsole got worn in two months after 3 days a week usage on average. But otherwise, it is fine. No a horror 🙂
A bit narrower fit
I know that it is difficult to make an excellent shoe. Someone has wide feet, someone over-pronates, someone has too high arches and thus to make a great combination of all of these aspects and attributes in one model, I believe, is for the producer extremely difficult. Unfortunately, even Air Zoom Structure 22 from Nike is not an exception and regarding my wider feet, I felt too snug. The mesh upper is less flexible and thus definitely be aware of this fact in case you are ordering the shoe over net and not in the store.
Speaking about it in general, this Nike Zoom Structure shoe is a great shoe with some small negative minor attributes that you should know about before buying them. All in all, the overall cut could be better for wider feet but the high cushioning and attributes as stability and arch support really make a difference from other shoes. Running long distances on the road is with Nike Air Zoom Structure 22 a real fun.