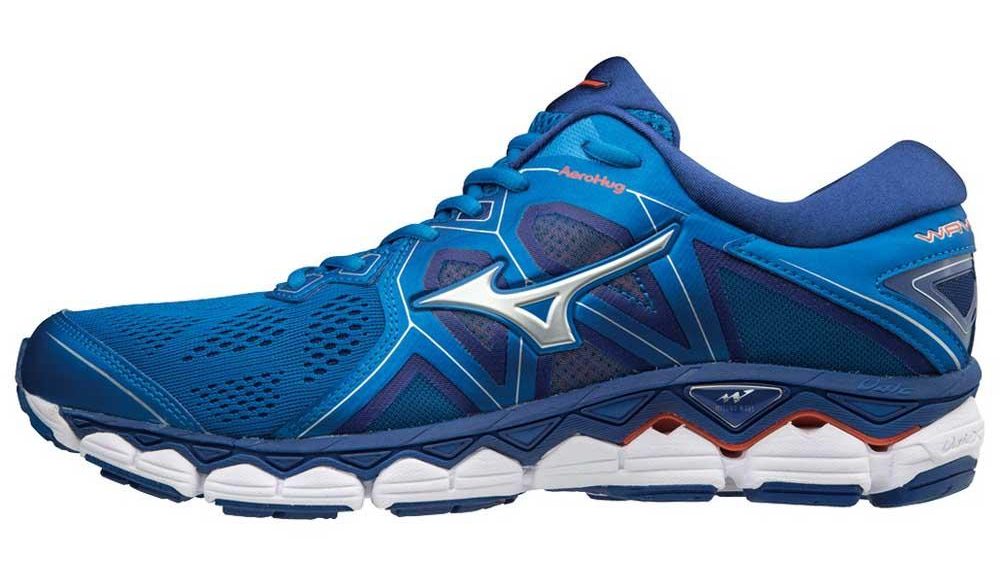 Mizuno Wave Sky 2 Review
Mizuno Wave Sky 2 Review
Big shoes for big runners. That's what you should imagine when someone mentions Mizuno Wave Sky 2. It is a typical big volume shoe that makes life easier for those who need lots of cushioning and stability for long runs. Unfortunately, at the expense of their high weight… That's how you may see this model in one sentence. But! There is much more to say about this Mizuno Wave Sky 2. And as I have used them for running for almost more than three 3 months, I am gonna outline their strong and weak points in a few lines below. If you prefer to check other's personal opinions or pricing, go and check it on Amazon. Other technical specifications you may find there as well 🙂 .
What made me test Mizuno Wave Sky 2?
First of all, I have long-lasting problems with my knees. I used to have my right knee falling out of its position so that I had to give up running for some time completely. After a year from the surgery, I got back to it, but based on my doctor's recommendation, I started using stability running shoes. Next, in order to lower the impacts on my second knee, in which I feel here and there some pain as well, I needed running shoes with highly cushioned midsoles. And as the matter of fact I am a big guy having over 230 lbs, the protectiveness of cushioning of running shoes is the necessity number one. I used to run in Brooks Ghost 12 and the old Saucony Freedom ISO, and I wanted to compare it with something completely new that I never tried before.
The beautiful ups
So from the very beginning, I have to say that I really loved this model of Mizuno. The Cloudwave technology used for cushioning is rather softer, but not too soft. It rebounces pretty nicely back. A bit similar to Saucony Triumph Iso 5, but it doesn't offer such a good energy return. Rather milder than the other model. Nevertheless, it simply feels very good. It is great for longer runs over 10 miles. Comfort, I would say, is absolutely the top number one characteristics of the shoe here.
Also, Mizuno Wave Sky 2 is supported by the Pebax plate inserted in the midsoles. Pebax is specially designed to attenuate shocks and more than that. It stabilizes and holds the structure of the whole shoe in the correct position for each foot's impact. So if you have similar problems with pronation as I do and you tend to overpronate (commonly happening to people with higher weight) then this shoe is a perfect stabilizer that hinders you to roll your feet inwards. And thus, overpronate. For long distances? Almost essential. With Mizuno Wave Sky 2 running on long distances you will definitely feel from the shoe some high support.
Every model has at least a one weak point
A bit of a shame, but the truth is, that I really disliked the weight of the model. Be prepared that it goes easily over 13 oz if you get the men's version of the shoe (US size 12). Because the shoes got cushioning and Pebax, automatically the weight goes up. And unfortunately, we don't speak here about Nikes that make uppers extremely light. As far as I have noticed, this is Mizuno and the other Mizuno models are pretty much very similar. Simply, this is a place where the company should push a bit and try to get the weight down. Because Mizuno Wave Sky 2 is awesome but seriously quite heavy.
Shining like a star
I really fell in love with Mizuno Wave Sky 2 color design. You can get a greatly shining upper in blue, green or just simply a decent black-colored version. But it is true that the whole shoe seems to be a bit bulky and large because of the padding in the heel part. Of course, I could criticise the shoes for the fact that on a hot day, the padding made me feel inside the shoe very warm but that happened only once. Thus, I don't really see it as a weakness, rather I appreciated that padding because it give the feeling that Mizuno Wave Sky 2 are seriously very protective.
Anyway, enough of talking. Just to sum it up. This is an excellent running shoe. And I understand that they are quite heavy for running but to be honest, I still think that you would really appreciate the cushioning system the same way as I did. For overpronators and people having joint injuries, this Mizuno Wave Sky 2 can be a real relief.