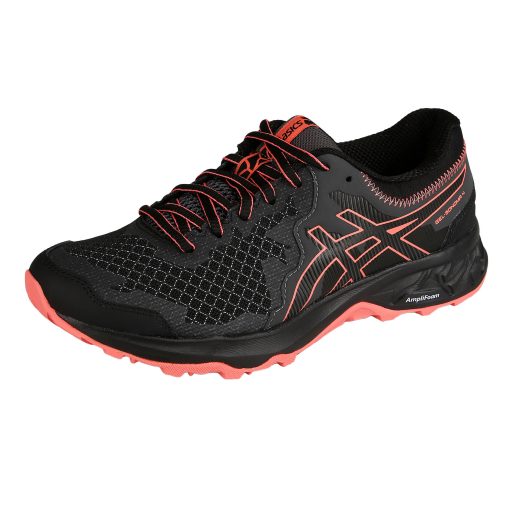 Asics GEL-SONOMA 4 Review
Asics GEL-SONOMA 4 Review
Despite not being a big fan of trail running shoes, I sometimes simply like to exchange the terrain and instead of comfortable park roads go for a wild run into the real forest. For such a situation when you go into a bit more wild and adventurous running terrain, Asics Gel Sonoma 4 are an ideal option.
First of all, they surprised me by the firm top. A lot! After having them tested on 250 kilometers, I dare to say that the upper really is durable. Forest roads, unmarked roads in the woods and steeper slopes, for this shoe are definitely not a problem. The rubber outsole wasn´t an exception. I barely noticed any changes. Plus, I appreciated the reversed-oriented, diamond-shaped lugs on the outsole which create most of its surface. I liked it because the overall traction of the shoes is very good. Especially on the steeper slopes, I still felt very safe. Long time ago, I had on my feet Asics Gel Sonoma 3 and the lugs were shallower, of different shape, larger and flatter and thus, the final traction of this newer model is much more improved.
What might make your life a bit more difficult in Asics Gel-Sonoma 4 though, is their weight and fit. That´s why I wrote in the beginning, it is a shoe for someone who takes trail running as a complementary activity. They don´t fit me the best, because I have somewhat wider feet but imagining someone who has really wide feet in these shoes? That would be a real disaster. Because of to their firmness, even after running many kilometers, the shape haven´t changed and internally still feel quite narrow. I would say, no matter what, buy them only in person, after having them tried in the shop!
Another negative point is the weight…. If it is the case that you are used to running on reinforced roads, in something as is the Nike, Puma, Adidas,… you will simply feel them on your feet a lot. At least in the beginning. Hard to say what part specifically added to the weight of the shoe, but compared to the previous Sonoma 3, these are in men version almost 40 grams heavier than the past model (now around 360 grams).
Nevertheless, the positive that everyone should definitely appreciate is the midsole comprising of two different technilogies, Amplifoam and Rarefoot Gel cushioning system. Openly said, I wouldn´t say it is a big difference in comparison to Sonoma 3, but it is true that I felt the cushioning softer and more flexible.
So the overall result is that this shoe is a great option for a beginner trail runner who doesn´t want to invest too much money into equipment. It is safe, it is durable and despite its bit bigger weight, it offers still some good cushioning. For shorter distances, it can be a highly sufficient model. 🙂