This time, we took a look at the middle class running category and decided to make an evaluation of Adidas Galaxy 2M which is according to many reviews and opinions considered to be a fairly average running shoe. After having them tested for a few running hours and making a clear cut, we are coming with this short review that might help you when deciding whether to buy them or not. First, let´s take a look at the bright points.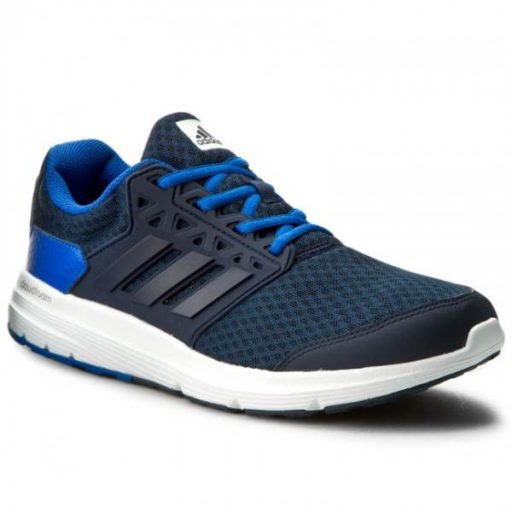 The fact it can be considered as just a middle class shoe is signaled by the producer in the first place. And that is the price. You can get them for around 50 euros, which for the quality they offer is quite a reasonable price. The shoe can show off with the Supercloud technology as the producer is pushing forward in the most online descriptions. It is supposed to be a technology that the midsole is made of, and which should be providing the runner with a very soft treading after each step. As for this aspect, I can definitely say that the midsole makes running in these shoes comfortable and as promised, for me soft as well. 
On the other hand, even when I tightened the laces strongly, the fit of the shoe was not perfect. The legs were still too loosened in the shoes. The technology used for the upper is a bit impermeable, so expect that if you have your legs sweating very often, this might be a problem as well.
We wanted to take a look inside the layers of the shoe and thus, made a clear cut for seeing the internal structure of the midsole and the heel part. The result? A real disappointment was the midsole Supercloud technology. As you may see from the picture, there isn´t anything special than just a few random holes in the structure. I cannot really say I would call this even a technology. Of course it sounds fancy, so why not to use it in the description of the product (at least, that is my impression). But it doesn't look as anything expected. 
The last point of criticism might be the material used in the upper heel part of the shoe. There you may find a soft foam which is a proof why it is not a high quality running shoe. If you keep runnning in these for a longer time, be prepared it will become thinner in time and bringing you blisters and thus some possible pain.
All in all, it is a nice show for preferably shorter distances, definitely not every day training shoe for long distances. The plus aspect I have seen in the price, but of course it really depends on what you are targeting in your specific purchase.